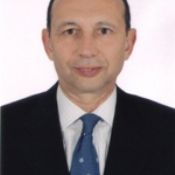 Salim Erdem
Chairman, Merit Group Companies, Moonen
Global Superyacht Forum 2010
Salim Erdem was born in 1956 in Bursa/Turkey. He has graduated from Tarsus American College in 1975 and from Bosphorus University in 1979, with a BA degree. He has started his professional life in textile industry. He worked at Berdan Tekstil and Çukurova Sanayi İşletmeleri at Mersin. In 1981 he started working in shipping industry and until 1989 he worked at Atako Limited as General Manager. In 1989 Mr. Erdem has established his own company, Merit Gemicilik, at Mersin. In 1993 Merit Gemicilik became the representative for Maersk Line in Turkey. From 2001 till 2008 Merit and Maersk established a joint venture for Turkish activities where Mr. Salim Erdem acted as Managing Director.

Since 2009, alongside chairing Merit Group Companies, Mr. Erdem; after Merit's acquisiton of Moonen Yachts Holding majority shares, is also acting as Chairman of the Supervisory Board for Moonen.

Mr. Erdem is married since 1981 and has a daughter. He names all his boats after his daugther's nickname.